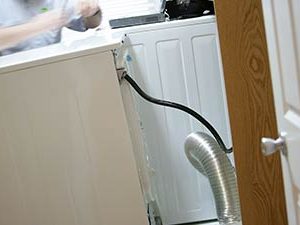 When it comes to residential washing machines, homeowners have an array of options to choose from. The market is flooded with different models, each boasting its unique features and advantages. As a trusted plumbing and septic service in Minneapolis, MN, Dan's Plumbing and Septic is here to help you navigate through the choices and find the perfect washing machine that meets your needs and preferences. Let's explore some of the top residential washing machine options available today:
Top loading washing machines: Top load washing machines are a classic choice, known for their easy-to-use design and affordability. They feature a vertical drum orientation, allowing users to load clothes from the top. These machines are generally more budget-friendly compared to front-load models, making them a popular choice for many households. Additionally, top-load washers are often faster when it comes to washing cycles, making laundry day a breeze.
Front loading washing machines: Front load washing machines have gained immense popularity in recent years due to their energy efficiency and advanced features. Unlike top loaders, these machines have a horizontal drum orientation, which offers superior cleaning performance and allows for larger loads. Front-load washers are known for their excellent water and energy-saving capabilities, making them an environmentally conscious choice for homeowners. Although they may have a higher upfront cost, the long-term savings on utility bills and water consumption make them a worthwhile investment.
High-Efficiency (HE) washing machines: HE washing machines are designed to optimize water usage and reduce energy consumption. They come in both top-load and front-load configurations, and their advanced technology ensures that clothes are thoroughly cleaned with less water. HE washers often have specialized cycles for different fabric types and soil levels, providing a gentle yet effective washing experience. If eco-friendliness and resource conservation are priorities for you, a HE washing machine might be the ideal choice.
Washer-Dryer combos: For homeowners with limited space, washer-dryer combo units are a convenient solution. These compact machines combine both washing and drying functions into a single unit, eliminating the need for a separate dryer. While they may have a smaller capacity compared to standalone washers and dryers, they offer a space-saving advantage that's perfect for apartments or smaller homes.
Smart washing machines: In the age of smart technology, even washing machines have gotten an upgrade. Smart washing machines come with Wi-Fi connectivity and smartphone apps that allow you to control and monitor your laundry remotely. You can receive alerts when the cycle is complete or even download additional washing programs for specific needs. While these machines may come at a premium price, the convenience they offer can be a game-changer for busy households.
Washer And Dryer Appliance Installers
When selecting a residential washing machine, consider your household's size, budget, laundry needs, and available space. Don't forget to explore various brands and read customer reviews to ensure you're getting a reliable and high-performing machine. If you need further assistance or have any questions about residential washing machines, feel free to reach out to Dan's Plumbing and Septic in Minneapolis, MN. Our team of experts is always ready to help you make an informed decision and keep your laundry running smoothly.