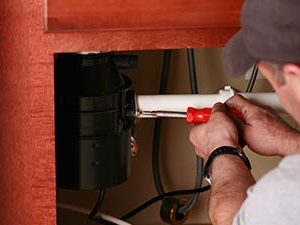 Are you sick of having to dispose of all the scraps that you put into the sink? Wouldn't it be nice to push the scraps down the drain and let them get broken down without clogging any pipes? Well, by partnering with our team at Dan's Plumbing & Septic, we can make this happen for you. We specialize in garbage disposal installation and our experienced team can help make dealing with your kitchen waste much easier.
Installing a garbage disposal underneath your kitchen sink will help you and your family cut down on trash in your home. In fact, studies have shown that a garbage disposal can help reduce the amount of trash in your home by as much as 20%. By producing less waste, you are doing your part to help our environment as less food ends up in your local landfill.
Garbage Disposal Perks
There is more to a garbage disposal than just being able to get rid of the scraps in your sink without a trip to the trash can. Other garbage disposal perks that you can take advantage of after our team installs your garbage disposal includes the following:
● Time Saver – A garbage disposal helps speed up the dish cleaning process because you no longer have to worry about food going down the drain.
● Less Odor – Do you feel like your trash can is constantly making your kitchen smell bad? Investing in a garbage disposal will help reduce kitchen odors that often occur. Less odor also means that fewer unwanted critters will enter your home searching for food scraps.
● Minimal Maintenance – There's not much maintenance that you have to deal with when it comes to a garbage disposal. The most work you'll need to do is flush down a little baking soda and vinegar every so often to ensure that it's draining well.
As your local plumbing professionals in the Seven County Metro area of Minnesota, our experienced team can handle your garbage disposal installation with ease. We offer free estimates and affordable pricing, so what do you have to lose? There are no hidden fees with our services, so what you see is what you get! We can add a garbage disposal to your existing sink, or to your brand-new sink. To learn more about our garbage disposal installation and other plumbing services, give Dan's Plumbing & Septic a call today at (763) 434-6814.