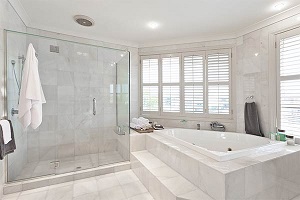 You spend a lot of time in your bathroom and most of that time involves the use of water. Your sink, shower, tub and toilet use the majority of water in your entire home. In fact, the average household uses about 400 gallons of water every single day. Your bathroom's plumbing is an extremely important part of your home's plumbing system and if something goes wrong, you are looking at serious water damage. Dan's Plumbing & Septic, located in Spring Lake Park, has been providing our clients in the Twin Cities with residential plumbing services for more than sixty years. We bring experience, expertise, customer service and affordable pricing to each and every job we take on.
Some of the most common bathroom plumbing issues that we deal with include
Leaks: Finding and repairing a leak in your bathroom is not always simple. If you notice damage on a ceiling downstairs, or on the floor in the bathroom area, you may be surprised to learn that the leak is actually coming from somewhere else in your bathroom. Leaks that are not repaired quickly can cause serious and costly water damage.
Toilet Installation and Repair: We always recommend you hire a professional to install a new toilet or complete any toilet repairs. If a toilet is not working correctly, or has not been correctly installed, you are vulnerable for water damage and even septic problems.
Sink, Tub and Faucet Repair: Our staff has the experience and the tools to complete sink, tub and faucet repairs in your bathroom. We work quickly and can help you manage issues with slow drains, clogged drains and leaky faucets before the problems get worse.
Your bathroom is used regularly by your entire family and should be serviced by a professional plumber when there is a problem. The team at Dan's Plumbing & Septic understands that you cannot wait for your plumbing services, so we act quickly to get your issue repaired without charging you a fortune. We are a small, local Twin Cities business that believes that providing strong customer service is our most important job. We enjoy getting to know our repeat customers and working in our own community.
Plumbing Service Spring Lake Park Minnesota
If you have noticed an issue with a potential leak in your bathroom, or an issue with your faucet, tub or toilet, reach out to the professional plumbers at Dan's Plumbing & Septic at 763-434-6814. We look forward to serving you!